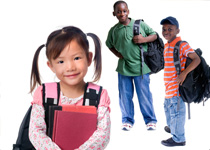 GradLock is a secondary stage endeavor to VocabuWord....
....and will be a monetary incentive & vesting feature payable to those who achieve high school graduation. Though the idea sprang from more than 20 years working with highly-at-risk, low-income students in the Watts community of South Los Angeles, (see
Strive-la.org
) it will be available to all students.

Given that high school students living in low-income families drop out of school at six times the rate of their peers from high-income families,1GradLock is structured to incentivize low-income students to work for, plan and attain their high school diploma.

GradLock is a cousin to the Learn & Earn component offered through VocabuWord.com and is a secondary initiative to the successful launch of VocabuWord.It will be offered through GradLock.com, GradLock.org, AcademicAllowance.com and AcademicAlllowance.org.
1. all4ed.org / (U.S. Department of Education, National Center for Education Statistics, 2004)